About Clean Green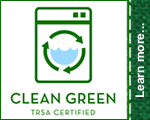 Clean Green-certified textile services meet quality standards for effectiveness in conserving resources, controlling sewer discharges and otherwise minimizing environmental impact. Any business that uses a Clean Green-certified laundry service to launder their linens, uniforms, floor mats and other reusable textiles can say that everything was washed, dried and finished with techniques that maximize sustainability.
The high-capacity washing, drying and wrinkle-removal equipment used by industrial-scale laundries make it so they are likely to meet Clean Green standards. It may be more difficult for smaller commercial laundries to obtain this certification because their washing machines are smaller and thus less efficient. To recieve this certification, laundries must provide documentation of how efficient they are in water and energy use, as well as deploy best management practices (BMPs) such as:
•    Recovering heat from drained hot water and heat dispersed from the process of warming water
•    Recapturing drained water from rinses for reuse
•    Using environmentally-friendly detergents
•    Removing solids and liquids from wastewater
•    Solar energy and energy-efficient lighting
•    Recycling programs
•    Re-routing trucks to save vehicle fuel
•    Spill prevention plans
•    Preventive maintenance
How Laundries Earn This Certification
To become Clean Green certified a laundry facility must meet water and energy conservation standards and follow the BMPs above. If either water and energy conservation standards cannot be met a company can still receive certification by implementing more BMPs.
How We Validate Adherence
To validate adherence, RSA inspectors are sent to facilities seeking the certification. The inspectors will confirm the water and energy documentation provided to them. They will also make sure BMPs are being followed in production reports submitted to auditors during the inspection. These reports are created from the laundry's records on detergent use, what items they wash from each customer and the number of loads they run, among other sources. Once accredited a company maintains its certification for three years and afterward it must be renewed.
Clean Green - ASTM International Standard
Clean Green aligns with the ASTM International Standard Guide for Sustainable Laundry Practices, which recognizes key criteria for the certification as universal indicators of maximum sustainability in commercial laundry work. ASTM's review of Clean Green's best management practices requirements has verified these as the most effective and practical techniques for a laundry to achieve green objectives.
TRSA members prompted development of the standard, which was vetted in the sustainability subcommittee of the ASTM Committee on Textiles. The 19-month approval process, completed in July 2013, involved top technical experts, scientists and environmental professionals from outside the industry as well.
ASTM is the global leader in developing and delivering voluntary consensus standards unparalleled in building consumer confidence in product and service quality.
Apply to Become a Clean Green Laundry
View the Clean Green Brochure