Hygienically Clean - What Is It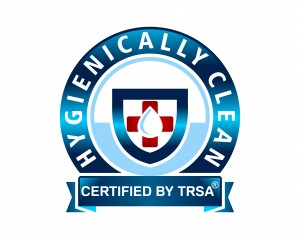 Businesses highly conscientious about the sanitation of their work practices and processes need to become more confident that they do not contribute to human illness. TRSA's Hygienically Clean certification helps achieve this objective by ensuring textile products laundered for businesses meet key disinfection criteria. A TRSA Hygienically Clean certified operation washes, dries, irons and packs items using techniques to produce laundry that meets TRSA's cleanliness specifications.
To attain a Hygienically Clean certification, a laundry must deploy best management practices (BMPs) and pass bacteriological testing and facility inspections. Microbiological standards are based testing using the USP 61 protocol:
– Allows a minimal amount of bacteria to remain after textiles are laundered
– Pass/fail criteria of less than or equal to 20 colony forming units (CFU)
TRSA also offers a Hygienically Clean Healthcare certification and a Hygienically Clean Food Service standard. To earn these, laundries must meet the baseline qualifications for the Hygienically Clean designation and specialized criteria for these additional designations.
Required Quality Control Documentation
A laundry is not required to use particular processes, chemicals or BMPs to achieve certification—whatever tactics management feels are necessary can be used to achieve TRSA's Minimum Performance Specifications as measured by bacteriological testing. But BMPs must be documented in a written quality control manual.
Facility Testing
To approve laundries for Hygienically Clean certification, TRSA inspects them to review their documentation and observe their BMP deployment. After this initial on-site inspection, facilities are examined on a 3-year basis. Bacteriological testing begins with one evaluation in each of the first three months the laundry is certified, then one every six months.
Testing Facilities
Hygienically Clean - Laundry Standards
View the White Paper on Infection Control
Apply to Become a TRSA Hygienically Clean Laundry